MERCURY COMPLIANCE CYCLE®
Compliance standards for companies and their employees are continuously increasing. With the growing complexity of the legal and regulatory environment, ensuring effective compliance becomes more and more challenging. Consequently, tailored compliance processes are key to success.
An efficient COMPLIANCE PROGRAM consists of the following core elements: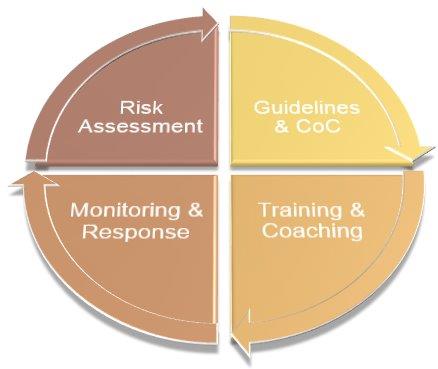 1. RISK ASSESSMENT
Companies have to identify the compliance risks associated with their business. This is done through a detailed risk assessment.
2. GUIDELINES AND CODE OF CONDUCT
Based on the risk assessment, companies need to establish an internal code of conduct as well as detailed written policies to enable their officers and employees to stay compliant.
3. TRAINING AND COACHING
An important element of strong compliance is appropriately training company officers and employees on relevant laws, regulations and corporate policies. In doing so, special attention should be given to an individual's position and risk exposure.
4. MONITORING AND RESPONSE
Companies should establish a regular monitoring system including specific spot-check audits to detect deficiencies in business processes or employee conduct. In case of actual or supposed breaches, an appropriate reporting system should be in place and adequate responses taken.
With our highly qualified staff and our broad experience, we can help you design and implement a compliance organization that is tailored to your needs. We are looking forward to you contacting us.